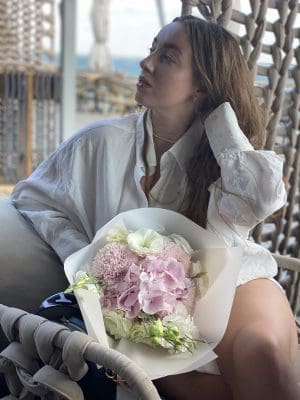 Hi there! It's Anna here. I grew up in the wonderful city of Odessa, Ukraine. I was born and raised in a country where every person is ready to make an extra step for you. Because you are worth it. Where you are not just buying flowers, you are buying an experience. My best friend used to have her own flower shop and every bouquet she created was a piece of art because she was doing it with all the passion and love she had for it.
I found myself wondering why I could not find this kind of store in The Netherlands. It brought me to an idea. And this idea turned to reality in October this year – River's Flower Bar.And not only this dream came true. I have been so lucky to have my very best friend as our Chief Floral Designer. The one, who inspired me a while ago to start all of this.
Anastasia Glavinskaya
Chief Flower Designer
Here she is! Passionated, talented, funny and strong woman behind the beautiful flowers on your desk. Anastasia has been my best friend for almost 15 years by now. We went to the same school, shared our happiness and tears as teenagers and I am still lucky to have het by my side.
Anastasia left Ukraine in February this 2022, on the exact same day the war has started. I was happy she moved to the Netherlands so she is safe and there is no big distance beteren our friendship anymore and we have a future where we can see each other's children grow up.
Now, Anastasia is the Chief Flower Designer of River's FlowerBar and believe me, her fantasy and passion just gets bigger everysingle day!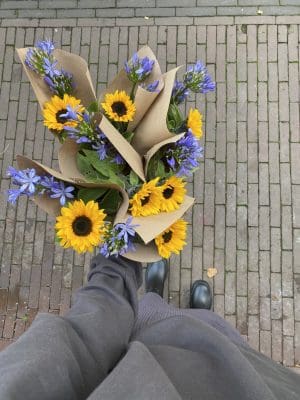 We never forget our roots 🇺🇦 River's Flower Bar stands with Ukraine and supports the Armed Forces of Ukraine.